Let it be a wine…
The heurige (wine tavern) culture belongs to the Thermenregion, just like wine. To enjoy wine right there where it its grown and vinified imbues charm and joy of living. Day for day, pleasure-seeking guests find their way to the heurige between Perchtoldsdorf and Wiener Neustadt. The choice is immense – not only when it comes to the number of taverns, but also their offerings of wines, culinary treats and atmospheres. The occasions for a heurige visit are manifold. Visits are often combined with a day trip in the region and include a leisurely hike through the vines. Some visitors want to taste the wines of a particular winery or meet the vintner personally. The heurige of the Thermenregion are societal melting pots in which hospitality is a matter of course and the values of a famous cultural heritage continue to be lived.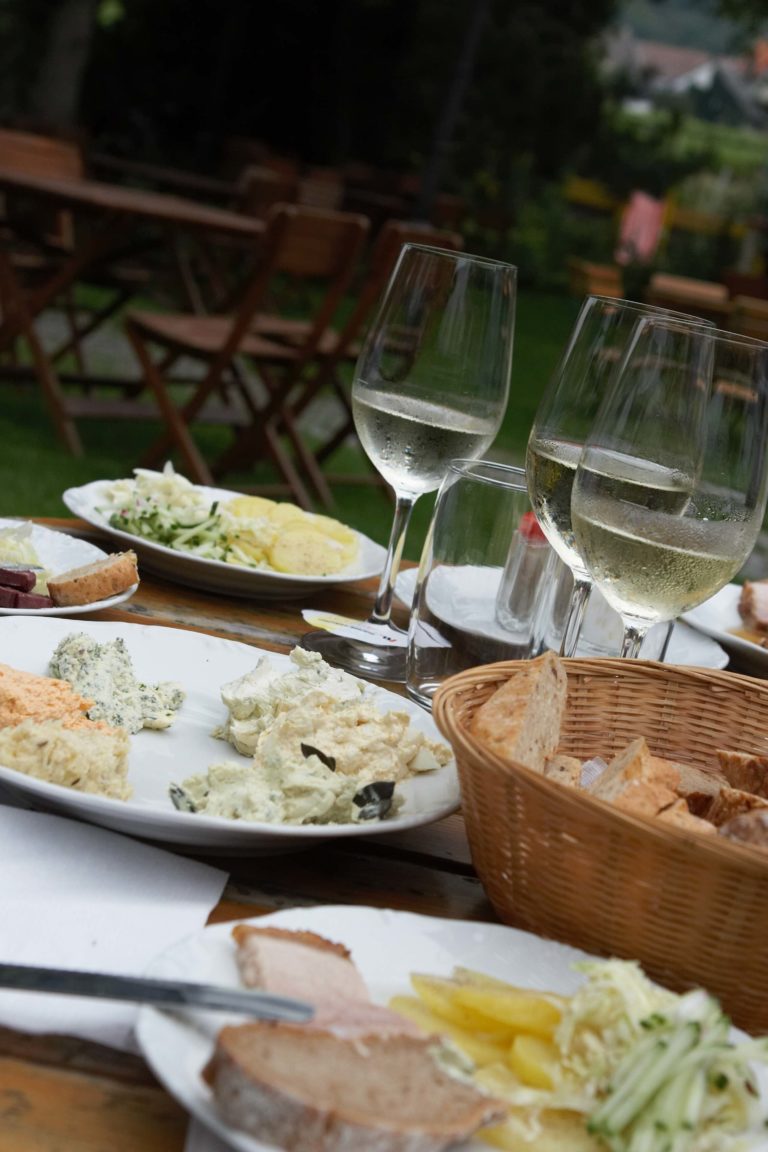 Wine, its Favourite Ambience and Favourite Accompaniment
Just as wine culture and the way that wine is enjoyed have evolved over the years, the heurige have also experienced an evolution and different types of these establishments have come to be. The qualitative pinnacles are wineries with contemporary premises and sophisticated table and glass culture. It is a wonderful possibility to experience the wine style of a winery and chat with the vintner in a relaxed atmosphere. Epicurean creations are offered to delight every gourmet's heart. It is often family members that conjure up the finest culinary delights with passion and flair. Of course, primarily regional products are featured and menus vary according to the season. Heurige with old vaulted ceilings and rustic ambience can still be found in romantic country lanes. Dependent on the vintner, the wine offerings can be quite diverse and also include very exclusive wines. Some taverns indulge in simplicity and serve only wines of the current vintage, which is very close to the early concept of the heurige. Here too, culinary desires are fulfilled in a very tasty manner. The focus is often on traditional dishes that can be selected from a buffet or vitrine. One should not rely solely on visual impressions, because many heurige pour world-famous wines and serve true delicacies in a conscientiously humble setting.
"Ausg'steckt" and open …
Thanks to the wealth of ideas and the commitment of many ambitions winemakers, the Thermenregion's wine taverns continue to be popular today. Whether young or old, everyone who enjoys good wine meets here. According to old traditions, many wineries open their heuriger only for certain periods, often in a fixed rhythm. Information can be found in the online heurige calendars of the respective municipalities or at the local tourist offices. Opening times were originally legally regulated. Heuriger that were open had a bundle of pine branches ausg'stekt (hung out) above the front door. The term "ausg'stekt" continues to mean that a wine tavern is "open". If old wine was being served, a straw bush was added. Ribbons in white or red communicated whether red wine or white wine or both were available. Today, branches, bushes and ribbons are supplemented, or sometimes even replaced, with a light.
Wine trips and wine hikes
Heurige are also very attractive for wine travellers. Many explore the region visiting vintners or wine shops during the day, focusing on tasting their favourite wines. The numerous hiking trails offer the opportunity to get to know the region better (see page 54ff). Whether you seek athletic exertion or a leisurely stroll is up to you. In either case is vital that you reward yourself with a visit to a heurige along the way or at the end of your day's itinerary. Should your visit be more extensive, there is always a train, bus or taxi available for the return journey.
Hans Moser's "Reblaus"
Doubtlessly, the heurige of the Thermenregion are legendary. Yet this culture fundamentally changed when Emperor Josef II passed a "Buschenschank" legislation that permitted vintners throughout Austria to serve wine on their own premises (see page 66). Serving food was originally forbidden, but these regulations became more liberal over time and vintners began offering homemade bread and snacks. It was also generally common for guests to bring their own food up until the 1970s. Beginning in the 1940s, the popular Austrian actor Hans Moser drew attention to the Thermenregion, in particular to Gumpoldskirchen where he was often encountered. His visits became a magnet for visitors to the heurige. The region's celebrity increased all the more when Hans Moser sang his famous humorous song "Die Reblaus" (the vine pest) with the text "drum habe den Gumpoldskirchner ich so vom Herzen gern" (that's why I love the Gumpoldskirchen people from the heart). In gratitude for his loyalty and the related advertising, a statue of a phylloxera vine pest on the church square is dedicated to him. If the great actor could have seen this monument himself, who knows what anecdote one could tell about it today.